| | |
| --- | --- |
| <![if !vml]><![endif]> | |
| | Insurance Claims Welcome |
Have you ever been asked to match stone, match brick or roof tiles that aren't being manufactured anymore? Clients do not want to fill a hole with the wrong color or shape brick or stone, so insurance is faced with an expensive dilemma of removal and re-bricking. Demolition and Restoration can be long noisy, messy and dusty ordeal that can damage windows, lawn, landscaping, paint, and more-at prohibitive cost. But if the wrong size, shape or color, is used it immediately devalues a house. There's no need to re-brick or lay stone for the whole building or even an entire wall for want of a few bricks or stones. You can send five representative bricks or stone from the damaged area, along with a photograph. Please refer to our FAQ page. While Stone Art does not do the installation, they do give advice on matching mortar and /or cleaning it. This is very important, because 30 percent of the visual color on a wall is the mortar joint. If the joint is not matched, the wall will not match. Stone Art not only matches color, but will custom make odd sizes, unusual textures and combinations. Each one is hand done, it's real brick, so yes, it will last. Stone Art Inc. provides a viable option that gives contractors "an edge" in doing restoration and insurance work. Stone Art can match the customer's brick or stone, rather than just getting the colors as close as possible.
Brick Matching and Personalized Custom Cut Stone

"From residential homes to New York's Carnegie Hall"
(click on images to enlarge)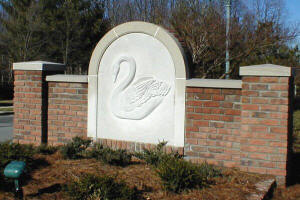 StoneArt Inc. matches brick and fabricates artwork in Limestone.
Experience in historical restoration and insurance repairs.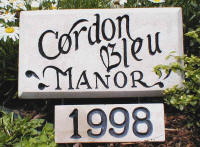 Personalized cut stones

Address Stones

We work with damaged brick for insurance repairs as well as historic restoration.
StoneArt Inc. can match about any kind of: Old Brick, Antique Brick,
Custom Brick or Discontinued Brick; including odd sizes, shapes, textures and colors.
We produce the following designs: Signage, Address stones, Limestone engraving, ornamental rock, Stone lettering, Etched stone, name brick, Memorials/pet memorials, 911 address markers, dedication stones/rocks, lawn stickers, and landscaping stones/rocks.
Contact information:

StoneArt Inc.
295B California Ave.
Church Hill, TN 37642

Office (423) 357-1464

brickmatch@yahoo.com